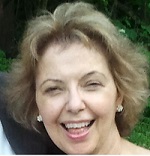 I am currently Senior Editor of Partner Content at MedPage Today, working on the American Society of Clinical Oncology Reading Room and overseeing the other Reading Rooms, acting as editor of Medical Journeys, doing general editing for the overall site, and handling the @MedPagePolicy twitter account.
Previously: freelance/consulting editor/writer, mostly for MedPage Today and the news sections of American Journal of Nursing (one of my news stories was included as part of AJN's Silver Award from the American Society of Healthcare Publication Editors for "Best News Coverage"); long-time editor of Oncology Times; and before that, an editor for the American Cancer Society's peer-reviewed journal CA: A Cancer Journal for Clinicians, as well as for several other publications, including Nursing Care, Behavioral Medicine, and National Health.
I live in New York City, and am a member of the Association of Health Care Journalists; the National Association of Science Writers; the Society of Professional Journalists; ACES, the Society for Editing; the Online News Association; and the Radio Television Digital News Association.